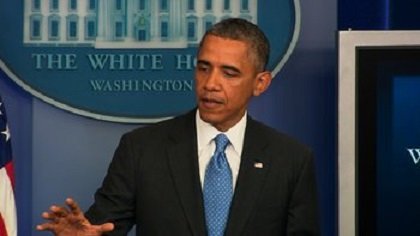 In his first live comments since the verdict last weekend in the case of Martin's shooting death last year, President Barack Obama addressed media at the White House Briefing Room.

Stories this photo appears in:

In 2004 at the Democratic National Committee's presidential convention, I was mesmerized by Barack Obama, a little known state senator from Illinois.

In unscheduled and unusually personal remarks, President Barack Obama tried Friday to explain why African-Americans were upset about last week's acquittal of George Zimmerman in the shooting death of Trayvon Martin while lowering expectations for federal charges in the case.