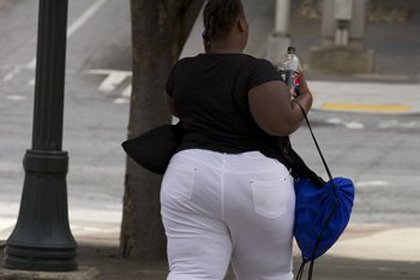 The American Medical Association has adopted a new policy that labels obesity as a disease.
Stories this photo appears in:

Sometimes celebrities or otherwise physically fit people will put on a fat suit and document their experience with a video camera, usually to be aired on a daytime talk show. The overall impression is universal: Being severely overweight is taxing on almost every level, says Dr. Eleazar Kadile, who specializes in treating patients with obesity and associated chronic disease.

Medical doctor breaks down why it's not your fault
More than a third of adults in the United States, 35.1 percent, are obese, according to the Centers for Disease Control.

Sharon Carter does everything she can to lose weight. After years of overindulging, she says she eats three healthy meals per day, her snacks are healthy and few and far in between.

Adult obesity rates increased in six states in the past year, and did not decrease in any, according to a report from the Trust for America's Health and the Robert Wood Johnson Foundation.

The change diagnoses nearly one-third of Americas with a medical condition
One word could have a big impact on the way doctors treat obesity in the United States.