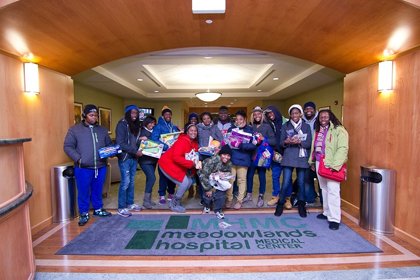 Members of the Baltimore Quantum Opportunities Program made a trip to Newtown, Connecticut to show support after the recent tragedy. On their way home, they delivered toys to the Children's Wing of the Meadowlands Hospital in Secaucus, New Jersey. (Left to right) Michael Wagstaff; Jeremy Craddock; Destiny James; Alan Taylor; Kim Green, Quantum Mentor; Leeya Davis; Isaac Dickey; Dajah Harvey; Shanika Passmore; David Bailey; Justice Epps; Tsanonda Edwards, Quantum Director; Kim Wiggins, Quantum Academic Coordinator; and (front center) Lester Perry-Watts.
Stories this photo appears in:

Ranisha Coppage was on a road to nowhere. School was a drag for the 17-year-old junior, who had a habit of cutting classes missing as much as 100 days in a year.