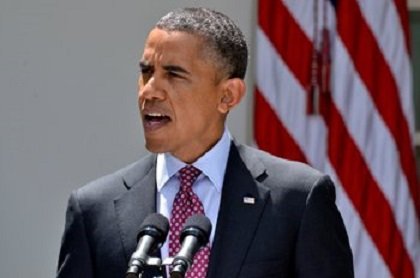 President Barack Obama
Stories this photo appears in:

President Barack Obama told CNN's Jake Tapper Wednesday that members of Congress made a "political vote" by voting overwhelmingly to override his veto of a measure that allows families of those killed during the 9/11 terror attacks to sue Saudi Arabia.

Before an audience at the National Rx Drug Abuse and Heroin Summit in Atlanta, President Barack Obama said he wasn't sure what it was that tipped his life away from addiction. "I wasn't always as responsible as I am today. In many ways I was lucky, because for whatever reason addiction didn't get it's claws on me ... except cigarettes," he said.

On Wednesday, the President will visit the Islamic Society of Baltimore
Seeking to rebut what he views as perilous election-year bombast about Muslims, President Barack Obama heads Wednesday to a mosque in Baltimore, his first visit to such a site in the United States.

From the campus of Lehman College in the Bronx New York today, President Obama will announce a spin-off of his already-existing "My Brother's Keeper" initiative into a new, non-profit foundation -- a clue into what work the president will take on in his post-presidency years.

President Barack Obama will visit Kenya this summer, the White House announced Monday, his first visit to the country since being elected President.

Free education "for those willing to work for it."

White House summit gives voice to working families
Many American families face the stark reality that in today's economy even two paychecks barely cover the rising costs of food, shelter, health care and education.

Amid great fanfare, President Obama on Monday announced plans to use his executive pen to help more graduates tackle student loan debt.

Quite often fellow Africa Americans have heard me criticize President Obama and asked me why I hate the President. I reject the premise of the question.

President Obama will ask the Labor Department on Thursday to issue tougher rules on overtime, which could lead to extra pay for millions of workers who aren't currently paid for extra hours of work.

Onyango Okech Obama -- an uncle of President Barack Obama who has been in the United States illegally for decades -- has gotten a federal court's OK to stay in his adopted country, according to an attorney representing the uncle.

Visit will take him to Senegal, South Africa and Tanzania
President Barack Obama flies across the Atlantic on Wednesday for a trip that takes him to Senegal, South Africa and Tanzania -- his second visit to sub-Saharan Africa since taking office.