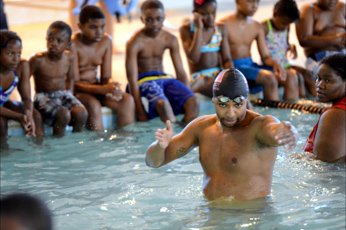 Olympic Gold Medalist swimmer Cullen Jones and Debbie Freed teamed up with Conner Cares Foundation to give swimming safety lessons to children in Baltimore City on April 27, 2013. The foundation is named in honor of Debbie's late son, Conner, who drowned at age 5.
Stories this photo appears in:

Joins forces with Connor Cares Foundation to teach swimming, life skills
Olympic swimmer Cullen Jones nearly drowned when he was five. Now his mission is to teach children to swim.