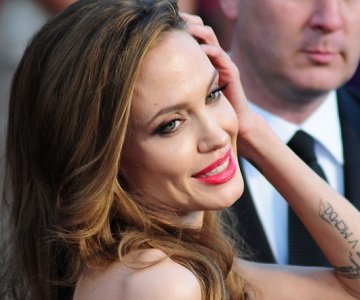 Angelina Jolie at the Hollywood and Highland Center in Hollywood, California on Sunday, February 26, 2012 for the 84th Annual Academy Awards ceremony.
Stories this photo appears in:

Women at highest risk include those who carry certain genes, those with a close relative affected by the disease
Fewer than half of ovarian cancer patients survive more than five years after their diagnosis. But new research indicates that preemptive surgery to remove a woman's ovaries and fallopian tubes might benefit more women than previously thought.

She urges other women at high risk of developing cancer to explore their options and take control
Two years after she underwent a double mastectomy to cut her cancer risk, actress and U.N. envoy Angelina Jolie has had surgery to remove her ovaries and fallopian tubes for the same reason, she wrote in The New York Times on Tuesday.

Announced preventative surgery in New York Times Op-Ed
Actress Angelina Jolie announced in a New York Times op-ed article on Tuesday that she underwent a preventive double mastectomy after learning she carries a mutation of the BRCA1 gene, which sharply increases her risk of developing breast cancer and ovarian cancer.