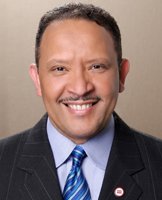 Marc H. Morial, former mayor of New Orleans, is president and CEO of the National Urban League
Stories this photo appears in:

If you are disposed to using the Internet as your guide, a diploma will generally be described as the proof of your successful completion of a course of study, or the bestowal of an academic degree.

All across the country, people are gathering to observe an annual academic rite of passage: graduation.

While the number of African American, Latino and women consumers of Internet and broadband products and services is rising, their numbers at the major Silicon Valley companies continue to lag way behind. After years of resisting disclosure, tech giants such as Apple, Facebook, Yahoo and Google recently released their employment diversity numbers.

University commencement season is a time of high hopes and great celebration.