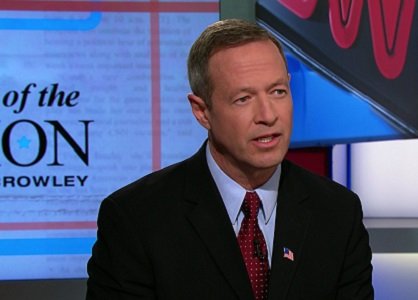 Maryland Gov. Martin O'Malley talks about the Missouri Senate race with Candy Crowley on 'State of the Union.'

Stories this photo appears in:

Recent polls suggest former Maryland governor is lagging far behind
Martin O'Malley launched his presidential campaign Saturday with an appeal to the party's progressive base that he hopes will upend the conventional wisdom that Hillary Clinton is destined to clinch the Democratic nomination.

Former Maryland Gov. Martin O'Malley called the Republican Party's assertion that overly-burdensome regulations are contributing to inequality "patently bulls---."

Former Maryland Gov. Martin O'Malley took a major shot at Hillary Clinton on Sunday, saying the country needs a "new perspective" and "new leadership" in the 2016 election.

Gov. Martin O'Malley told reporters on Monday that while he is focused on his last year as governor, he is also weighing the possibility of a presidential run in 2016.

After Hillary Clinton and Joe Biden, Maryland Gov. Martin O'Malley is one of the most talked-about potential candidates for the Democratic presidential nomination in 2016.

Maryland Gov. Martin O'Malley hoped to turn heads in New Hampshire this weekend and get his share of the early speculation surrounding the 2016 presidential race with a buzzy new video about his leadership credentials.