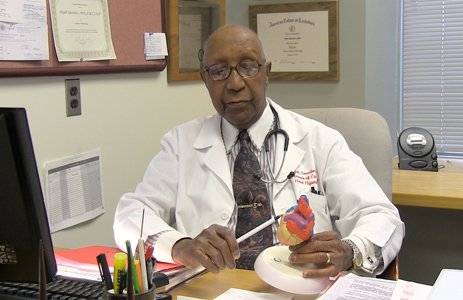 Dr. Elijah Saunders, a cardiologist who served as professor of medicine and head of the section of hypertension at the University of Maryland School of Medicine, died early Tuesday. He was a pioneer in research related to African Americans and hypertension. (Above) Dr. Saunders explains how diabetes impacts coronary arteries, which can cause a heart attack.
Stories this photo appears in:

Prior to adjourning on Tuesday, April 7, 2015, members of the Maryland State Senate observed a moment of silence not for a fallen colleague or a long time government official, but for a man who for decades brought joy, relief and a lot of health care issues facing African-Americans to the forefront.

Heart disease is the number one killer in America, but diabetes is the number one root cause of heart attack and stroke.