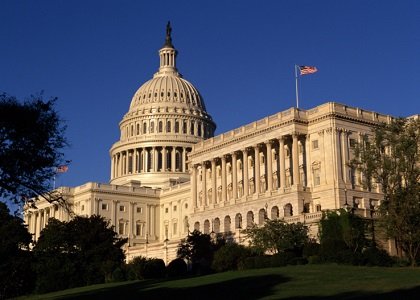 Stories this photo appears in:

President Donald Trump will welcome bipartisan congressional leaders to the White House Monday night, according to three sources familiar with the meeting, his first gathering with the group since taking the oath of office.

I had the good fortune last week to spend some time in Washington, D.C. with about a dozen former members of Congress.

Over more than three decades in Congress, I had the chance to question a lot of federal officials. Most of the time I wasn't after anything dramatic — I just wanted to understand who was responsible for certain decisions. Want to know how often I got a straight answer? Almost never!

Earlier this month, The Economist, a renowned British weekly, ran an editorial advocating an end to the U.S. dollar's supremacy as the world's chief currency.

A few weeks ago, Senator Tim Kaine of Virginia made a small splash in the press when he took Congress to task for failing to authorize our nation's ongoing war against Islamic militants.

It didn't get much attention at the time, but the elections last November did more than give Republicans a majority in the U.S. Senate.

I have been working in or around government for over 50 years, and if you asked me to boil down what I've learned to one sentence, it is this: Governing is much harder work than most people imagine. This doesn't excuse its lapses or sluggish rate of progress, but it does help explain them.

As election season approaches, I've been pondering a crucial issue about the role of government in our society.

We Americans are trapped in a political dilemma. We all like representative democracy, but we don't much like the way it's performing.

It's depressing to read poll after poll highlighting Americans' utter disdain for Congress. But it's my encounters with ordinary citizens at public meetings or in casual conversation that really bring me up short.

In his State of the Union speech to Congress last month, President Obama drew widespread attention for pledging to use his executive authority to advance his priorities.

The American public has lost patience with Washington. The question is, now what?