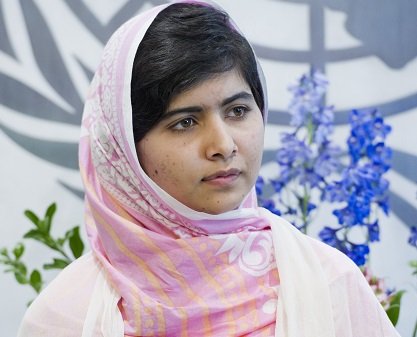 Malala Yousafzai, the young education rights campaigner from Pakistan, during her meeting with Secretary-General Ban Ki-moon. On her sixteenth birthday, Malala is at UN headquarters to take part in a "Malala Day" UN Youth Assembly, where she will be joined by hundreds of students from over 80 countries to call for quality education for every girl and boy in the world.

Stories this photo appears in:

Malala Yousafzai tells the girls she associates with them
On the eve of the one-year mark since nearly 300 schoolgirls were abducted by Boko Haram in Nigeria, Malala Yousafzai released an "open letter" to the girls Monday.

Md. teen wins CNN essay contest
As a teenager, it's easy to feel lost, to get swallowed up into the mob mentality and lose your voice. We've all been victim to that; anyone who says they haven't is either lying or under the age of 13 years. And so when a teenage girl undertakes such an incredible task of courage, one adults cower in fear of doing, the event takes on utmost significance. This is exactly what Malala Yousafzai, a huge inspiration to me and so many other girls, did.