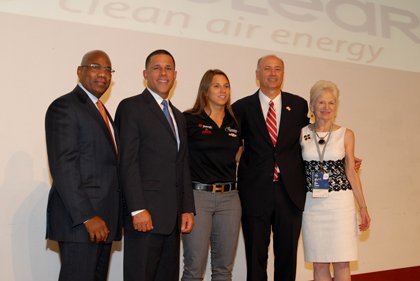 (Left to right) Morgan State University President David Wilson; Lt. Governor Anthony Brown; Race car driver Simona De Silvestro; Mike Rencheck, CEO, AREVA Inc.; and Edie Fraser, CEO, STEMconnector at the STEM ourteach event hosted by AREVA at Morgan State University on Wednesday, August 28, 2013.
Stories this photo appears in:

The crucial desire to keep America competitive globally and to create jobs has led government officials, celebrities, businesses and others to push for reforms in the "STEM" fields of science, technology, engineering and math.