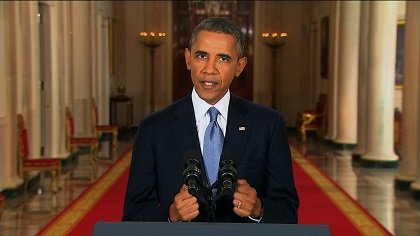 President Barack Obama said Tuesday night September 10, 2013, that Syria's government violated the "basic rules" of warfare, adding: "The facts cannot be denied. The question now is what the United States of America (will) do about it."

Stories this photo appears in:

Speaking to a war-weary nation Tuesday night, President Barack Obama asked Congress to postpone a vote authorizing him to launch an air attack against Syria while he explores a Russian diplomatic proposal that could rid Syria of its arsenal of chemical weapons.