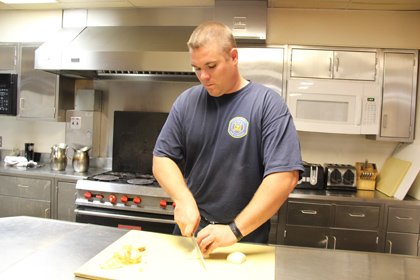 Howard County firefighters Barry Griffin and Kevin Weisenborn (not pictured) were chosen to be part of a national cookbook honoring firefighters. The cookbook, "Playing with Fires: Firehouse Recipes and their Chefs" contains recipes from firefighters all across the nation.
Stories this photo appears in:

'Playing with fires' benefits the Fallen Firefighters Foundation
Howard County Firefighter Kevin Weisenborn has become used to cooking for the group of guys he describes as "10 very picky eaters" that he regularly feeds at the local firehouse.