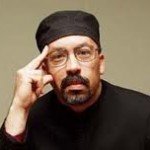 Bill Fletcher, Jr.
Stories this photo appears in:

As a baby-boomer who grew up on war movies, I thought of veterans as various forms of heroes.

Opening day for Major League Baseball always puts a smile on my face. This is the day that many of us treat as the actual beginning of spring. While snow can always appear, you know that warmer days are ahead. Yet, this is also a day when I think about a tragic injustice that is associated with Major League Baseball: the fact that both Curt Flood and Marvin Miller have not been inducted into the Baseball Hall of Fame.