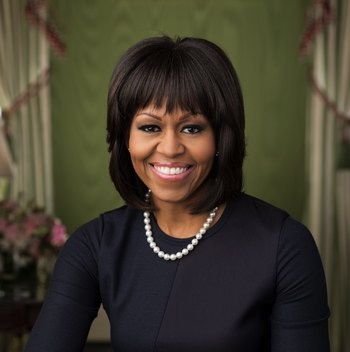 Official portrait of First Lady Michelle Obama in the Green Room of the White House was made on February 12, 2013.

Stories this photo appears in:

For me, education has never been simply a policy issue -- it's personal.

'Let Girls Learn' initiative will support girls' education efforts in Liberia and Morocco, she says
Ralphina Feelee lives in Liberia, where the average family gets by on less than two dollars a day, and many families simply can't afford to educate their daughters. Teen pregnancy rates are high, and pregnant girls are often discouraged from attending school.

President Barack Obama has always been candid about his youthful transgressions -- a history his wife referenced Tuesday when explaining anyone can become a high achiever.

More than any other first lady of the United States of America, Michelle Obama continues to stand above those who would attempt to distort her leadership. First Lady Obama's recent commencement address at the Tuskegee University in Alabama exemplified her courage to speak truth to the world without fear of repercussions.

Costello: Would Barack Obama be asked about plastic surgery and exercise routine at 50?
Mrs. Obama is on the cover of People Magazine today.

Fresh back from her extended holiday in Hawaii, Michelle Obama turned her attention to education in underserved communities Wednesday.