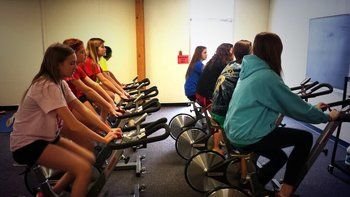 Matthew Pomeroy is a PE teacher at Merton Intermediate School in Merton, Wisconsin. He offers students a choice every day: They can play volleyball or do yoga; they can practice archery or work out in the weight room. Zumba. CrossFit. Geocaching. Tabata. Spinning. All these and more are offered to encourage students to move.
Stories this photo appears in:

Rick Murphy, a real estate appraiser in Atlanta, had no idea he had a bad heart. When Murphy turned 50, he decided it was time to get in shape. It wasn't long before he progressed from running races to an Ironman triathlon

Physical education teachers are using innovative ways to battle the obesity crisis
It's been called the fourth "R" of education: reading, writing, arithmetic and now, aerobics.