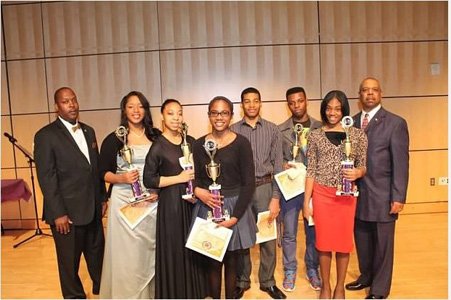 First place winners of Pi Omega 58th Annua Talent Hunt winners with members of Pi Omega Chapter (left to right) Malik Mosley, Basileus, Pi Omega Chapter; Dije Coxson, Vocal Classical; Kaylah Smith, Dance; Sydney Boyd, Instrumental Classical; Keith Davenport, Instrumental Contemporary; Mohamed Tall, Drama; Katyrah Davenport, Vocal Contemporary; and Talent Hunt Chairman John Berkley.
Stories this photo appears in:

Pi Omega Chapter, Graduate Chapter of Baltimore, Maryland, Omega Psi Phi Fraternity, Inc., hosted its 58th Annual Bro. Kelvin J. O'Neal Talent Hunt Competition on Sunday March 2, 2014 at The Reginald F. Lewis Museum of Maryland African American History & Culture located at 830 E. Pratt Street in Baltimore City.