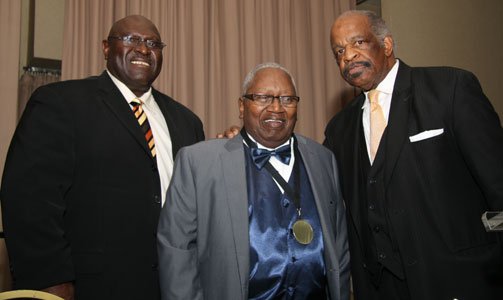 Rev. Dr. James Gray, Jr. (center) with two former UBMC Presidents; Rev. Dr. Matthew Jones, pastor Concord Baptist Church (left); and Rev. Charles Coger, pastor of Mt. Ararat Baptist Church (right) at the celebration banquet to honor outgoing UBMC President Rev. James Gray, Jr. on Friday, May 23, 2014 at Martins West in Baltimore.
Stories this photo appears in:

Five hundred well wishers gathered the evening of Friday, May 23, 2014 to celebrate the end of Reverend Dr. James B. Gray, Jr.'s successful four year journey as president of the United Baptist Missionary Convention (UBMC) of Maryland and its Auxiliaries, Inc.