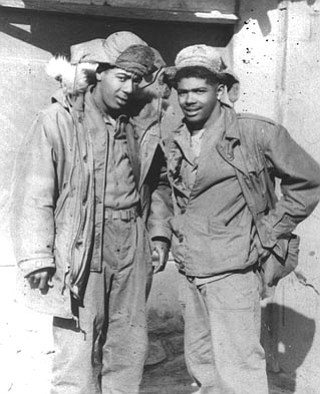 Louis S. Diggs, (right) a member of the 726th truck company with his brother George A. Diggs, a member of the 24th Infantry Regiment. They spent Christmas of 1951 together in Korea.
Stories this photo appears in:

The Veterans of the 231st Transportation Truck Battalion will celebrate their 67th Anniversary of being ordered to active duty by the Maryland National Guard on August 18, 1950 to support the Korean War, by attending church service at the Open Bible House of Prayers Baptist Church located at 3814 Gwynn Oak Avenue in Baltimore on Sunday, August 20, 2017. The Pastor is Rev. Seawall Smith.