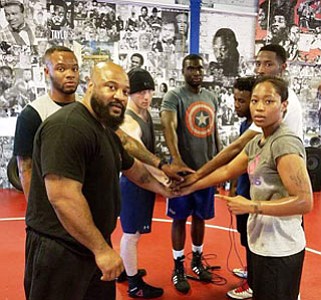 Destiny Day-Owens (far right) At age 22, a former student at the legendary Frederick Douglass High School has overcome a series of setbacks as a youngster and is now ready and prepared to join the nation's elite pugilists, specifically from her Golden Gloves prize rankings to a become a notable professional fighter. Currently, she trains with renowned boxing coach Mack Allison III, (left), owner of the Time 2 Grind gym in Northeast Baltimore. Day-Owens says she always figured the fight game was in her blood. Photo: Mack Allison III.; Tyrell Boyld; Alexander Teague; Malik Titus; Mack Allison, IV, Tavon Marshall; and Destiny Day-Owens.
Stories this photo appears in:

Even though she admittedly grew up in what she describes as one of Baltimore's roughest parts of town, Destiny Day-Owens remains committed to overcome her early obstacles to become one of America's premiere women boxers.