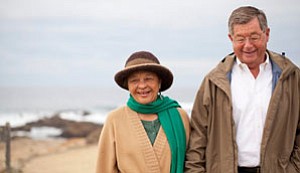 Ann and Fred Jealous, parents of Maryland gubernatorial candidate Ben Jealous, renewed their wedding vows at the St. James Episcopal Church Lafayette Square on June 12, 2017, where it was illegal for them to get married in 1966.
Stories this photo appears in:

For Fred and Ann Jealous, there is a strong belief that love has the ability to move mountains. And, in their case, love also has helped them overcome terrible odds and obstacles, none the least was the unpopular for its time, interracial marriage.