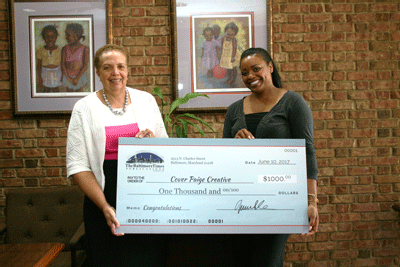 Joy Bramble, publisher of The Baltimore Times presents checks to grant winner, Cara Paige, founder, Color Paige Creative.
Stories this photo appears in:

Harbor Bank, MECU, Wells Fargo and Meridian Management Group were among the local bankers and financial institutions to join a Baltimore Times-sponsored event that instructed dozens of individuals on how to get on the path to success for raising capital for their businesses. MCE (Maryland Capital Enterprises, Inc.); kiva: Small Business Resource Center; and Minority Business Development Agency were other partners.