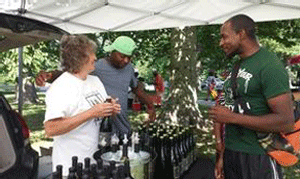 Druid Hill Farmers Market every Wednesday from 3-7 p.m. They have fresh baked goods, jam, local eggs, fresh prepared foods, crafts and a full schedule of programming, including live music. This is in Druid Hill Park adjacent to Rawlings Conservatory, 3100 Swann Drive. Take your folding chairs and enjoy.
Stories this photo appears in:

HAPPY 4TH OF JULY TO ONE AND ALL!
Hello everyone, hopefully you are enjoying this beautiful weather we are having. No complaints from me! I know it has been a little windy and a little humid, but look at the other places in the world; East Coast, some on the West Coast and overseas. Honey child we are blessed, so stop complaining and enjoy.