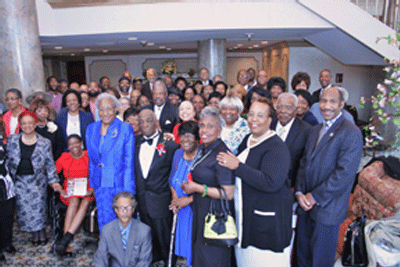 Ninety-six centenarians were honored with an afternoon of festivities with friends and family by the Maryland Centenarians Committee, Inc. at Martin's West on May 11, 2017. More than 500 guests enjoyed an afternoon of presentations, music and a crab cake lunch to honor 96 persons across the state of Maryland celebrating their 100th birthday. (Photo): Deacon Timothy Greene, age 100, (front row, standing, wearing red corsage) of the Transformation Church of Jesus Christ invited the entire fellowship to celebrate his special day. More than 100 people from the church wore their Sunday best to the luncheon.

Stories this photo appears in:

The skies outside the building were overcast, but the ballroom at Martin's West in Baltimore was filled with sunshine and blue skies for the 25th Annual Maryland Centenarians Recognition Luncheon on May 11, 2017.