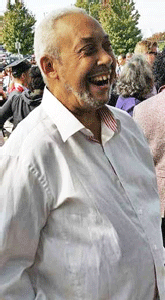 Renowned trumpeter and musician Wendall Shepherd passed away on Sunday, May 7, 2017. Shepherd worked at Jazzman Music; he studied at Berklee College of Music; he went to Douglass High School and Edmondson High. Funeral Service was held at New Union Baptist Church and his funeral was held on Saturday, May 13, 2017. Musicians from all over came to celebrate his life. Sincere condolences to his family as well as his musician family. May he Rest in Peace.
Stories this photo appears in:
Hello, my dear friends, I hope things are going well with you. This time of year brings some good and bad things, hoping the good overpowers the bad.