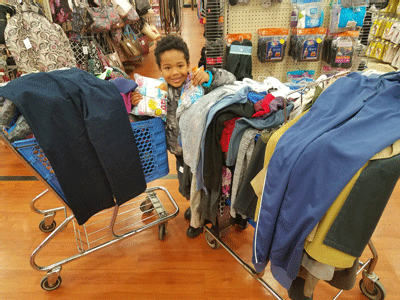 After appearing on NBC's "Little Big Shots," which is hosted by Steve Harvey, Tyler purchased and packed everything from new shirts and pants to soap, washcloths, lotion, razors, shaving cream, toothbrushes and toothpaste. Since Tyler often donates to MCVET, some veterans who utilize services there appeared in Tyler's "Little Big Shots" segment. When the show aired on March 25, 2018 and April 1, 2018, the public was able to see the home schooled first grader receive a Little Big Shots Humanitarian Award for Season 3, because of his ongoing support of American veterans in need. Many viewers responded by helping Tyler by donating funds to help MCVET and to thank veterans through Tyler's Give Back to Veterans fundraiser. Tyler has been thanking Americas heroes with special gifts, raising awareness and providing critical items for homeless veterans, since he was four years old.
Stories this photo appears in:

Tyler Stallings, age 6, shops for underclothes and other clothing items for female and male homeless veterans, in preparation for a delivery to the Maryland Center for Veterans Education and Training (MCVET). Tyler raised thousands of dollars through his GoFundMe campaign to purchase a large supply of spring items and toiletries, which he selected from the Baltimore-based nonprofit's wish list.