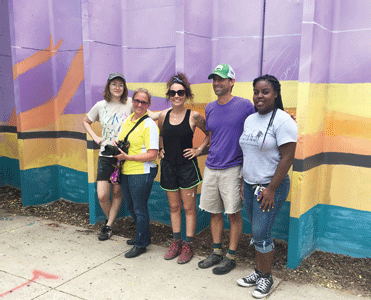 Lauren Gilson, assistant artist; Sharon Redmond, photographer; Crystal Dunn, lead artist; Michael Rosenbrand, volunteer coordinator/community engagement; Marian Simms, assistant artist.
Stories this photo appears in:

Bon Secours, which plans to celebrate its 100th anniversary in 2019, was treated to a colorful mural that stands out along the corner of Payson and Baltimore streets in West Baltimore by Maryland Institute College of Art (MICA) graduates Whitney Frazier, her partner Crystal Dunn, and other volunteers. Frazier said that the goal of the mural project was to beautify the brutalist, concrete wall that previously greeted the local residents each morning as they step out of their doors.