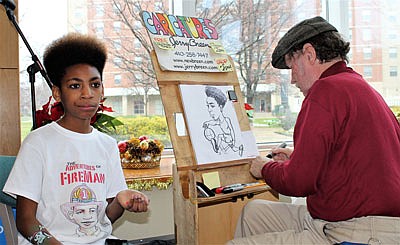 Jerry Breen, caricaturist, creates an amazing likeness of Miguel Coppedge. Miguel is the author of "The Adventures of Fireman" and sold his books, t-shirts and firehats at the event.
Stories this photo appears in:

The Baltimore Times and its foundation, Times Community Services, Inc hosted an inaugual Holiday Market Place Shopping Extravaganza at Coppin State University on Saturday, Decembet 1, 2018. The fun event was held to support small and home-based businesses to continue the trend of "Shop Small Saturday," which kicked off on November 24, 2018 across the nation. Shoppers and vendors alike were in the holiday spirit—shoppers took home one-of-a-kind items to put under the tree and vendors enjoyed putting smiles on their faces.