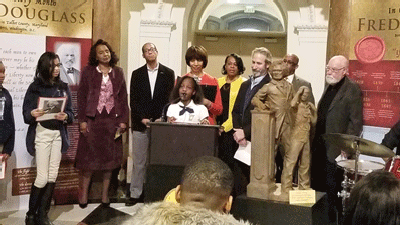 (Left to right) Crossroads School student; Wanda Draper, executive director, Reginald F. Lewis Museum; Baltimore City Councilman John Bullock, District 9; Baltimore City Mayor Catherine Pugh; City Comptroller Joan Pratt; President and CEO of Living Classrooms Foundation James Piper Bond; City Council President Bernard "Jack" Young; and artist Joseph Sheppard, creator of the bronze statue commemorating Frederick Douglass' s love of education all listen keenly as
a Crossroads School student brings Frederick Douglass's words to life.
Stories this photo appears in:

Baltimore Mayor Catherine Pugh commemorated the start of Black History Month with a celebration honoring the life, legacy and 200th birthday of Frederick Douglass on Thursday, February 01, 2018. Mayor Pugh began the program by recognizing some of Douglass's many achievements.