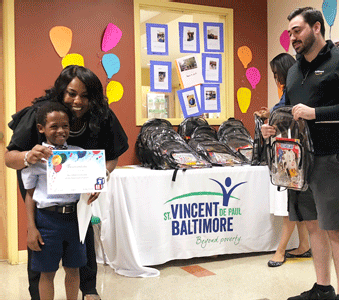 Amazon associate Von Collins-Timmons with a Head Start preschool student with his graduation certificate on full display at the at the Pimlico Art Center Head Start.
Stories this photo appears in:

Large e-commerce company, Amazon worked with St. Vincent de Paul to donate 330 backpacks to six Head Start locations in Baltimore last month. The backpacks were filled with more than $8,000 worth of books, pencils, craft items and workbooks focused on reading, writing, math and science.