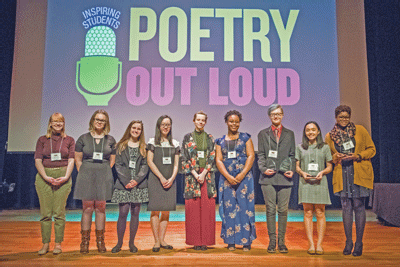 Finalists (l-r) Jeanette Banko, Colonel Richardon High, Caroline County; Kaylor Stroot, Brookewood School, Montgomery County; Kate Maerten, Gerstell Academy, Carroll County; Wansi "Ivy" Huang, Thomas S. Wootton High, Montgomery County; Allison Latham, The King's Christian Academy, St. Mary's County; Faith Rogers, Tuscarora High, Frederick County; Aevin Mayman, Barbara Ingram School for the Arts, Washington County (third place); Amy Nguyen, Sts. Peter and Paul High, Talbot County (second place); and Cayla Turner, Indian Creek School, Anne Arundel County (state champion).
Stories this photo appears in:

Cayla Turner, a senior at Indian Creek School in Anne Arundel County is this year's Maryland State "Poetry Out Loud" Champion. Cayla was among nine finalists selected from more than 7,500 students in 13 counties competing in the statewide POL competitions. She will compete in the National Finals, April 23-25, 2018 at the Lisner Auditorium at George Washington University in Washington, D.C. Cayla is (pictured) accepting her award at the Poetry Out Loud State Finals on March 10, 2018.