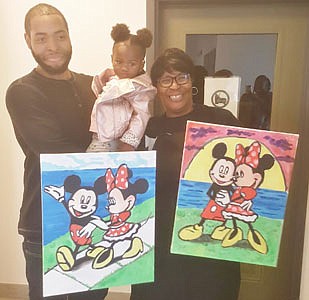 Artist Will Brown holding two-year-old Ta'liya Fleming, who has lost three godbrothers to gun violence. She loves Mickey and Minnie Mouse. Millie Brown holds the paintings her son created for her.
Stories this photo appears in:

More than 100 women impacted by violence were given all the trimmings for a Thanksgiving meal and served dinner at the 11th Annual Thanksgiving Event organized by Millie Brown, founder of A Mother's Cry on Saturday, November 10, 2018 at the Lillian Jones building at 1303 Greenmount Avenue in Baltimore City. A Mother's Cry is a local group that supports mothers who have lost children to violence.