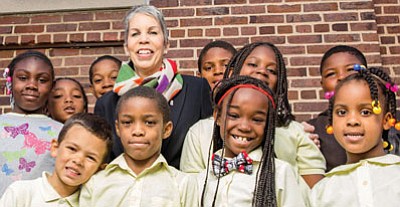 Bronwyn Mayden, MSW, serves as executive director of Promise Heights, an initiative led by the University of Maryland Baltimore's (UMB) School of Social Work (SSW). Money from the implementation grant will be used to bring additional supports to Eutaw-Marshburn Elementary School; Furman L. Templeton Preparatory Academy; The Historic Samuel Coleridge-Taylor Elementary; Booker T. Washington Middle School for the Arts; and Renaissance Academy High School.
Stories this photo appears in:

The U.S. Department of Education has awarded Promise Heights a five-year, $30 million grant to continue its effort to improve the lives of children and families in the West Baltimore neighborhood of Upton/Druid Heights. The grant enables Promise Heights to continue its comprehensive plan for combating poverty and increasing academic achievement in the local community.