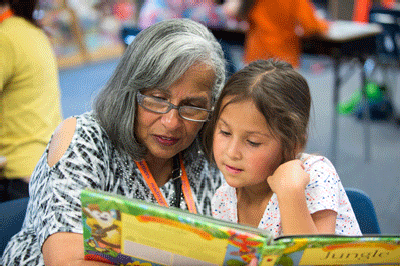 Reading Partners needs more community tutors in the 2018-19 school year. There are nearly nine million low-income K-5 students in the United States, including thousands in Baltimore, who are not yet reading at grade level. Without developing the literacy skills needed to read at grade level, these children do not have an equitable chance to succeed in school or in life. For more information about becoming a Reading Parters volunteer, visit: readingpartners.org
Stories this photo appears in:

The early literacy nonprofit looks for more community tutors in 2018-19.
The national nonprofit "Reading Partners" has been empowering students to succeed in reading and in life by engaging community volunteers to provide one-on-one tutoring for 20 years. Since the organization was founded, it has mobilized nearly 55,000 community volunteers to provide proven, individualized literacy tutoring to more than 50,000 elementary school students in under-resourced schools in 10 states and the District of Columbia.