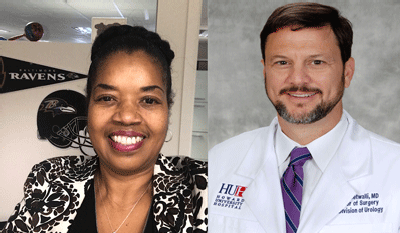 (Right) Dr. Adam Metwalli, Chief of the Division of Urology, Department of Surgery at Howard University Hospital in Washington, D.C. (Left) Cynthia Heath was diagnosed with stage IV colon cancer in 2007 at the age of 45. Heath credits her participation in clinical trials with vastly improving her health outcome.
Stories this photo appears in:

In August, Advancing Cancer Treatment (ACT) launched an effort, which seeks to change this disparaging statistic. ACT is raising awareness among newly-diagnosed African American cancer patients that clinical trials may be the first-line option, and not the last resort.