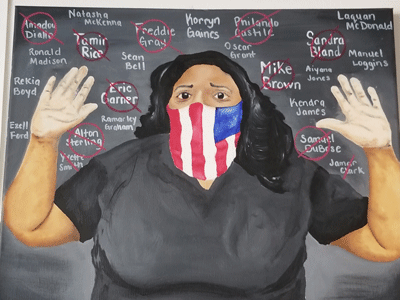 Community violence affects all racial and ethnic groups, but African Americans living in low-income urban neighborhoods experience higher rates of community violence and crime than other racial and ethnic groups. Growing up under the conditions of adversity by being victims of violence or witnessing violence has longterm effects. Toxic stress experienced early in life can have a cumulative toll on an individual's physical and mental health (Above) "Hands Up" artwork by Aja Ross.
Stories this photo appears in:

SurvivornomicsTM proffers that youth and emerging adults residing in disadvantaged, hypersegregated and marginalized communities live, adjust and thrive in the face of adversities while finding resilience. Because the challenges they face are multi-factorial and involve so many different systems, we must think critically and avoid becoming rigid in our deliberations.