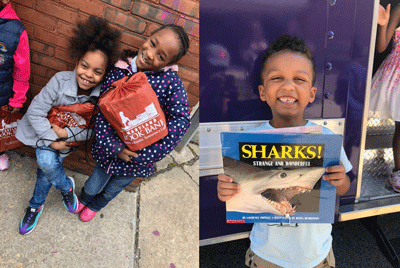 These youngsters proudly show off books they collected from a Bookmobile visit. The young ladies received their books during a visit to a Home Library Project School in December 2018. The young man received his new book from a Bookmobile visit to a Campfield Learning Center a few weeks after the 2018 Books for Kids Day.
Stories this photo appears in:

The Maryland Book Bank will hold their annual Books for Kids Day, a large-scale book donation event, on Saturday, May 4, 2019. The all-day event will take place at the Book Bank's new warehouse space, located at 1794 Union Avenue in Woodberry.