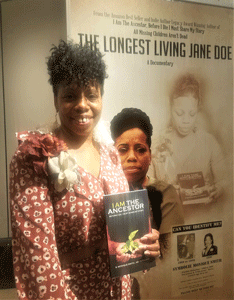 Monique Smith holds her book called "I AM THE ANCESTOR" on July 21, 2019 at Nordstrom Annapolis, during a special event which integrated one of the store's 2019 anniversary events, while celebrating women's empowerment. Guests attended a VIP reception where they heard the story of the longest living Jane Doe who is unaware of her birthdate or true identity.
Stories this photo appears in:
Societal ills are both traumatizing and disappointing but individuals like Monique Smith serve as a reminder that Baltimore is home to a plethora of inspiring people who work to make the world a better place. Behind Smith's infectious smile and contagious energy, her hope-filled story serves as a refreshing reminder that all missing children are not dead, and a devoted individual can make an impact, even in the midst of his or her own storm.