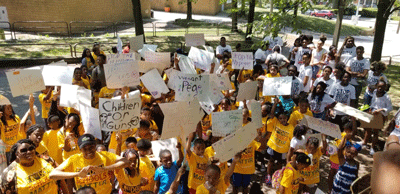 The Park Heights Renaissance-Freedom School program held from July 1 to August 2, 2019 was a collaborative effort by participants from the Mayor's Employment Development Youth Works, Safe Streets Park Heights, and Baltimore Clay Works. Freedom School, a component of Park Heights Renaissance, is an academic enrichment program based in various schools, faith institutions, and community centers from around the country. Park Heights Renaissance engages in commercial and residential development projects, community outreach, education initiatives in area schools. The rally included more than 150 students who gathered at the Shirley Avenue Park carrying signs and slogans protesting violence.
Stories this photo appears in:

Park Heights is a highly diverse community, which shares a common aspiration to rebuild. It offers enhanced quality of life and economy opportunity, according to community leaders.