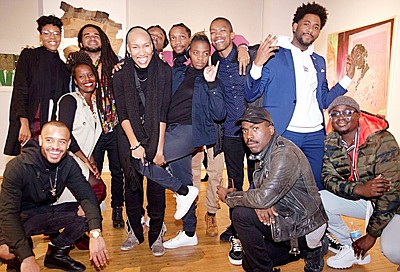 The Eubie Blake Galleries have gained a reputation as a unique and affordable exhibition venue for visual arts. The current exhibition, "Our World" is co-curated by Derrick Adams and Thomas James and will be on view until January 18, 2020. Ten young emerging artists, mostly from Baltimore will exhibit their works. The Eubie Blake National Jazz & Cultural Center is located 847 N. Howard Street.
Stories this photo appears in:
Happy Holidays to my dear friends and fans from both me and my "Boo-Boo," my husband and partner in crime "Shorty." I just want to say that with all the negative stuff that's going on in our hometown, we have twice as much to be grateful for— no matter what! I try to spend my energy on positive, fun and happy things in life. So, just follow my lead, just turn on some good music, lie back in your favorite chair, fix yourself your favorite beverage, whether it's a cup of coffee or tea or a cocktail and enjoy.