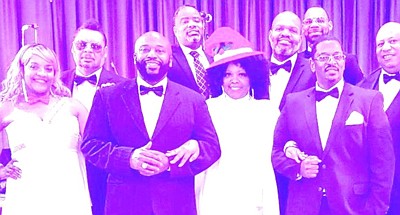 Dee Brent & Signature Live with Effect Band is the headliner for Carlos Hutchins of CH Productions "Home for the Holidays" Event on Sunday, December 15 at the Forum Caterers, 4210 Primrose Avenue starting at 4 p.m. For more information, call 443-963-5711.
Stories this photo appears in:
Happy Holidays to my dear friends and fans from both me and my "Boo-Boo," my husband and partner in crime "Shorty." I just want to say that with all the negative stuff that's going on in our hometown, we have twice as much to be grateful for— no matter what! I try to spend my energy on positive, fun and happy things in life. So, just follow my lead, just turn on some good music, lie back in your favorite chair, fix yourself your favorite beverage, whether it's a cup of coffee or tea or a cocktail and enjoy.