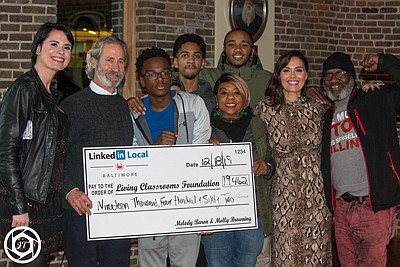 (Left To Right): Molly Browning, LinkedIn Local Baltimore co-host; James Piper Bond, President, and CEO of Living Classrooms Foundation; Antonio Moore, Living Classrooms alum; Antonio's mother, Charlotte Whitings; Melody Baron, LinkedIn Local Baltimore host; and Terry Williams. (Back row: Left to Right): Antonio's close friends, Matthew Johnson and Marquise Williams.
Stories this photo appears in:

LinkedIn Local Baltimore is a community-based event series and held monthly with all proceeds benefiting Living Classrooms Foundation.