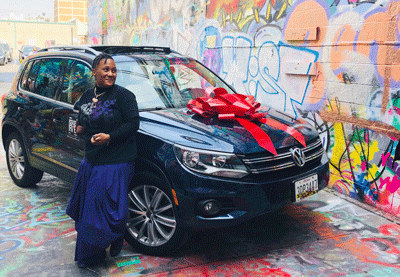 Erricka Bridgeford of Baltimore CeaseFire received a 2013 Volkswagen Tiguan SUV from MileOne Autogroup in a special ceremony on February 6, 2019 at the Motor House on North Avenue in Baltimore City.
Stories this photo appears in:

Erricka Bridgeford, a noted social activist in Baltimore City and co-founder of Baltimore Ceasefire 365, received a new vehicle by MileOne Autogroup after openly expressing the burden of being without reliable transportation. The 2013 Volkswagen Tiguan was presented to Bridgeford not only as a token of appreciation for her contributions to the community but was given in response to Bridgeford's need for a new vehicle.