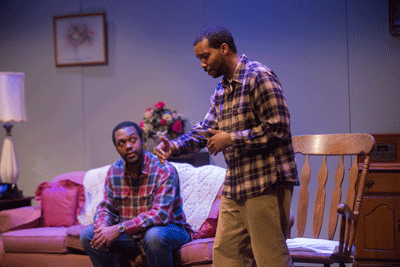 Pierre Walters (Fred Barnes) and Robert Freemon (Turner Davis) portrayed Memphis sanitation workers in the production.
Stories this photo appears in:

On February 1, 1968, two Memphis garbage collectors, Echol Cole and Robert Walker, were crushed to death by a malfunctioning truck. Twelve days later, frustrated by the city's response to the latest event in a long pattern of neglect and abuse of its black employees, 1,300 black men from the Memphis Department of Public Works went on strike.