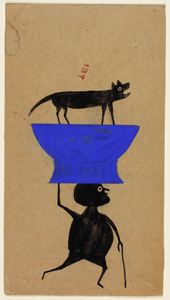 Bill Traylor, Untitled (Man Carrying Dog on Object), ca. 1939–1942, poster paint and graphite on cardboard. High Museum of Art, Atlanta, purchase with funds from Mrs. Lindsey Hopkins, Jr., Edith G. and Philip A. Rhodes, and the Members Guild © 1994, Bill Traylor Family Trust.
Stories this photo appears in:

The critically acclaimed exhibition "Between Worlds: The Art of Bill Traylor" will remain open to the public through Sunday, April 7, allowing visitors an additional three weeks to experience this major retrospective. The exhibition brings together 155 drawings and paintings from 51 public institutions and private collections to provide the most encompassing and in-depth study of the artist to date. In a tremendous show of support, all lenders agreed to the extension.