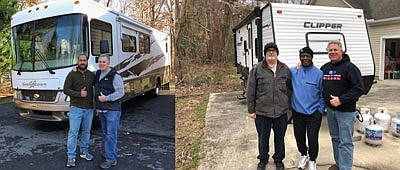 (Right) James Brown (middle), an 84-year-old Korean War veteran who had been living in his van since he was affected by Hurricane Florence with Scott Mallory (right), founder of the Anne Arundel County-based nonprofit, Truckin 4 Troops. Mallory delivered a camper to Brown, after a volunteer (left) helped to locate veterans like Brown who were in need of a clean safe place to live. (Left) Disabled veteran Gabriel Fernandez (left), whose home was destroyed in Hurricane Florence was helped to get into a motorhome with his family in October, thanks to Truckin 4 Troops. Leo's Vacation Center and Beckley's Camping Center were extremely helpful to the nonprofit in obtaining trailers at wholesale costs and by donating campers.
Stories this photo appears in:

Mallory's Crownsville-based nonprofit, "Truckin 4 Troops" was incorporated in January 2011 and since that time, the nonprofit has been supporting wounded veterans from all branches with numerous needs, such as picking them up from the hospital for the first time with their family members after being discharged— in addition to helping with other requested tasks. Additionally, more feats have been accomplished.