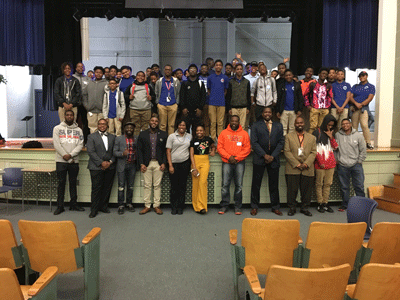 P-Tech students and community members gather for a photo following a male empowerment event with non-profit Hello, My Name is King on the 23rd anniversary of the Million Man March.
Stories this photo appears in:

De'Rell Bonner, an IBM on-site liaison for the P-TECH program at Carver Vocational-Technical High School is responsible for matching local teens with high-tech summer internships, apprenticeships and jobs of the future. His job is to bridge the gap between classroom and career, providing students with mentors, arranging paid internships, scheduling workplace visits, facilitating practical training on topics like personal finance and counseling students on career goals.