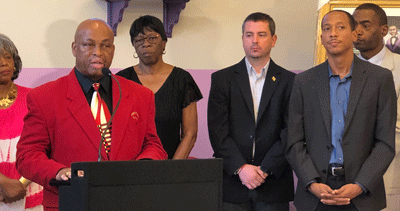 Bro. TsHamba, chairman, Arch Social Club; Annie Hall, president, Penn North Community Association; Eric Costello, Councilman, District 11; John Bullock, Councilman, District 9; Anthony Pressley, executive director, Druid Heights Development Corp
Stories this photo appears in:
Mayor Bernard "Jack" Young presents a citation to Lady Brion Gill at a press conference to announce the creation of the Pennsylvania Avenue Black Arts and Entertainment District. A large and enthusiastic crowd jammed The Avenue Bakery on Tuesday, July 23, 2019 to witness history.