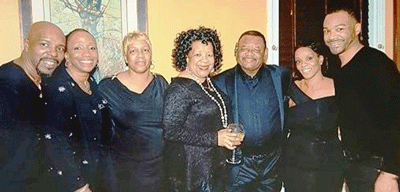 Families that pray together also party together! The Ridgley family celebrates their father Reverend Jo-Jo Ridgley Thomas's birthday. The Ridgley children: Deborah Waters; Tee Sheffield; Carla Corbett; Anton Holt Sr.; and Craig Ridgley.
Stories this photo appears in:

"For the first time ever, Hollywood Casino in Charlestown, Virginia is showcasing a "Gospel Series" featuring some of the top gospel artists in the country. I know some of you are in pure shock, saying— "What!; Are you serious?; and What the hell!"— and I understand, but girlfriend, I am so excited about this! Yes, it's true!"